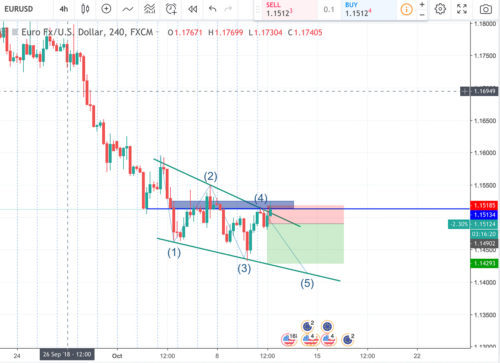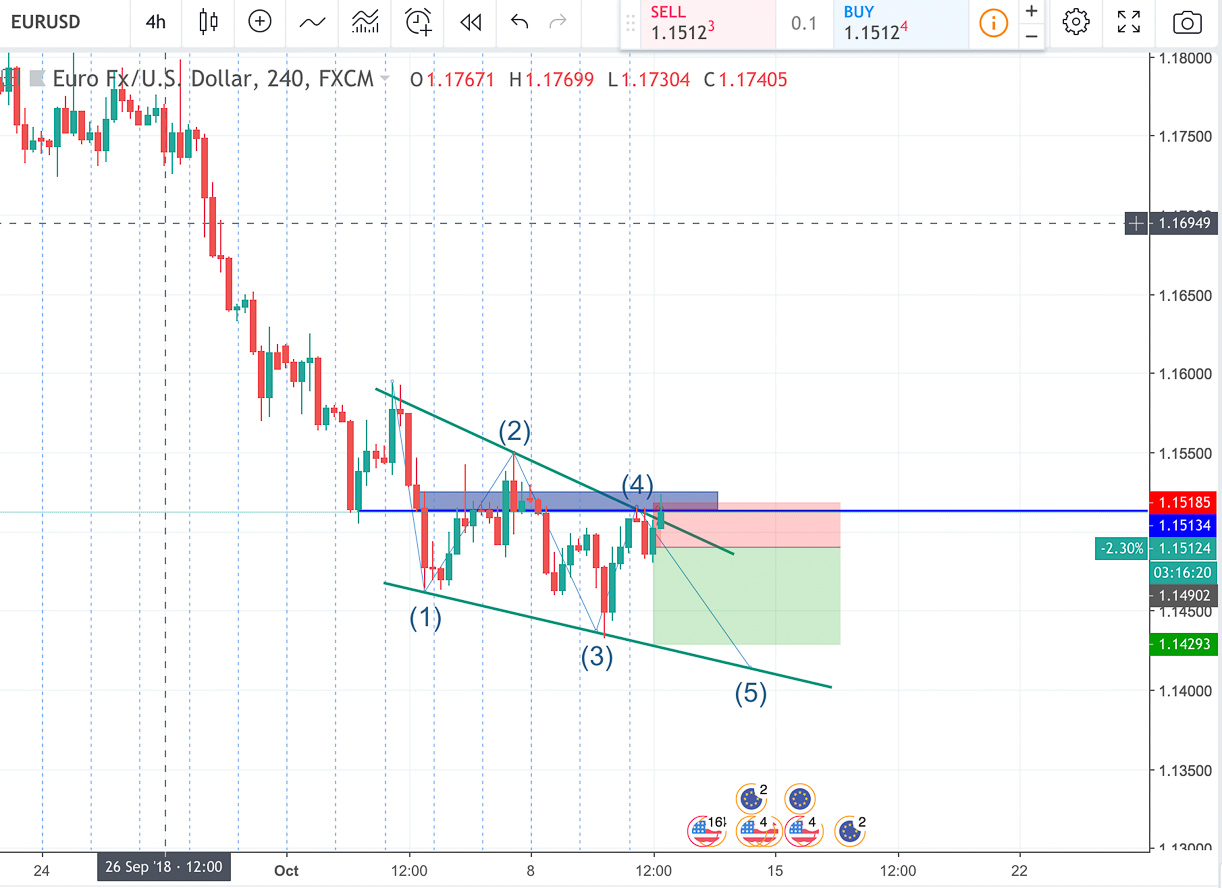 Product: TradingView Review
Lowest Price: $7.45 – $39.95 per month
Cheapest Place to Buy: tradingview.com
Support: only in pro versions
Free Trial: 30 day trial
My Rating: 9.5 out of 10
TradingView Overview
---
Regardless of the level of knowledge on how to trade the forex market, having proper high-quality charts can be invaluable. I am into forex trading on a part time basis and I have been using metatrader 4 for many years.  However,I have always felt the need for a more efficient, modern and capable charting software.
Fortunately, TradingView excels in meeting these requirements. Within this review I am will be walking you through TradingView's best features that have really made TradingView an indispensable tool for my trading.
1. Synced Multi Chart Layout
---
TradingView offers the ability to open up to 8 synced charts per layout. These charts can be synced in terms of time frame and interval. So when choosing to change the timeframe from the 1h to 4h timeframe, all instruments change to the 4h timeframe. And most importantly the cross hair moves in sync in all charts.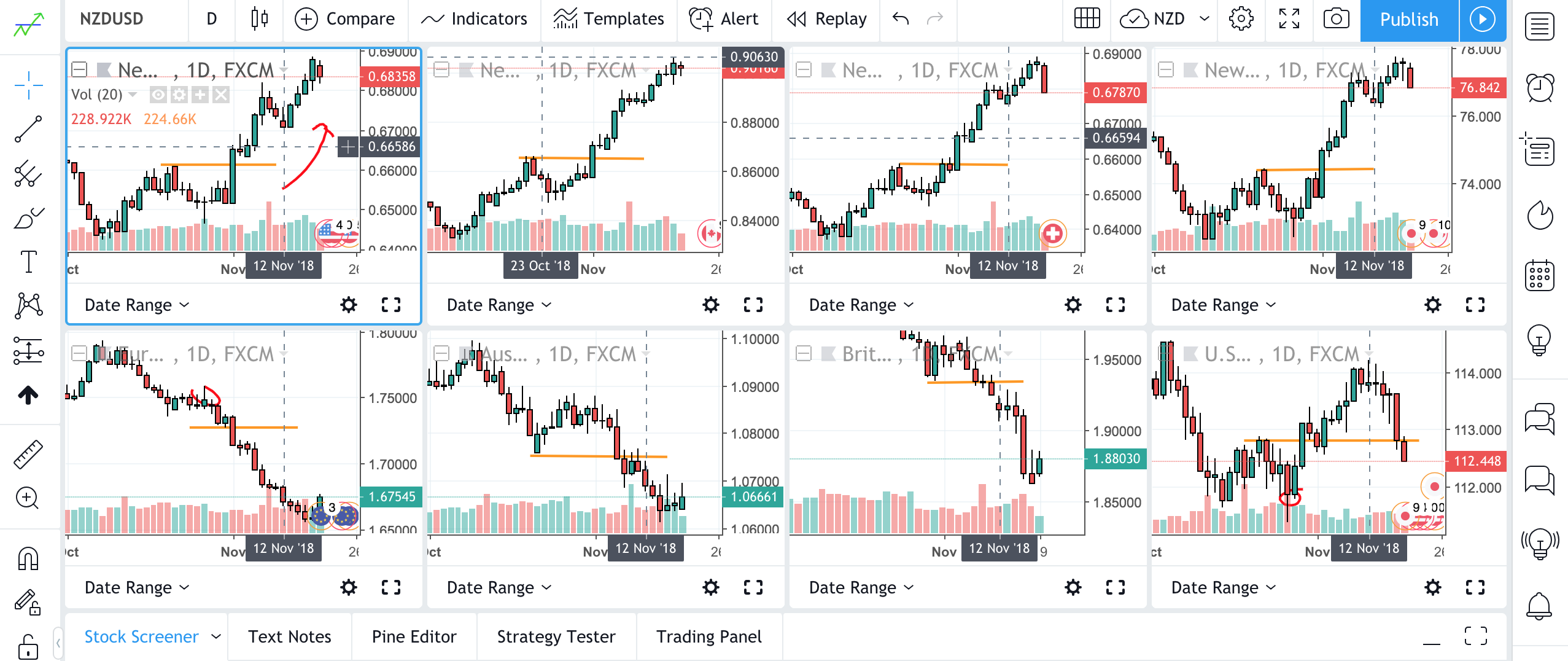 On another note TradingView enables the user to sync up to 8 charts in term of the instrument only. This allows seamless changing between currency pairs or stocks and simultaneous viewing them in up to 8 different time frames. When i narrow down to my trading pair, I usually use 3 which consist of my trading timeframe, the higher time frame for direction and a lower time frame for precision trading.
Many professional users find these two features extremely important in their trading and analysis and I do too. The 8-chart layout though, is only available in the premium TradingView plan.
In my case, I am a price action trading fan. If want to trade the EUR/USD currency pair based on my price action analysis, I will also check the correlation of the EURO and USD versus other major currency pairs first. TradingView makes this a whole lot easier than metatrader 4 and other trading platforms like MotiveWave. So, if my favourite forex pair suddenly gains momentum, I can always check on the fly whether this is happening to all sister pairs. Which could mean the whole market is participating on this, or not.
2. Social Interaction, Exposure and Credibility
---
TradingView enables publishing trading ideas in the easiest way possible. It gives traders the opportunity to gain exposure in the field, change ideas and learn from each other.
You can find useful trading ideas and trading forex strategies from top TradingView users too. These people are into forex day trading on a part time or full-time basis and publish their trading setups, opinions and analysis frequently.
On top of that, the premium version of TradingView offers you the option to advertise your personal website and twitter account and add promotional text to your trading ideas and analysis.
Here are some credible users to follow:
3. Drawing Tools
---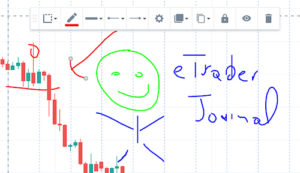 I know that there are some drawing tools on metatrader 4 and metatrader 5, but they really do not match TradingView's drawing tools and functionality. Drawing is very important in communicating trading ideas on the fly. It allows to note important points on the chart and perform analysis on the go.
TradingView is the only charting software that offers the ability to literally draw anything on the chart. Drawing support and resistance points or trend lines on the chart or adding some notes and symbols to remind you what was the outcome of your analysis has never been so simple.
4. Custom Lists and Automatic Flag Lists
---
While this might not hit you as critical, it is an amazing convenience. TradingView enables you to create various lists with you favourite currency pairs and instruments. But it doesn't stop there.
Lets say that you have created a list for each major currency including all sister pairs. TradingView enables you to flag the best currency opportunities from these lists. It then creates an automatic flag list for you, so you can focus on the flagged short list to monitor and trade.
5. Cloud Based Accessibility
---
TradingView runs on any device that can handle a web browser. There is an app for both iOS and Android devices. Its web-based structure means its efficient and easily accessible from almost any device connected to the internet.
Meanwhile, TradingView stores and auto-saves your analysis and trading set-ups on the cloud. In contrast other charting solutions like MT4 store data locally on devices. This makes it invaluable when you are away from your trading desk and want to access your trading analysis.
6. Unrivaled Market Data and Tools
---
Compared to an MT4 platform, TradingView gives access to almost every financial instrument out there. Even on the free version. Moreover, the advanced drawing tools make it easier to note the charts. And several advanced study patterns are available like harmonic patterns, Elliot wave motive and corrective patterns, Gann patterns and more.
The indicator library contains almost every available indicator together with new indicators created by users. All these features are available from the free version with the only limitation being the number of indicators laid out at the same time on the chart or indicator window (currently 4 are allowed).
TradingView Plans
---
Free: Try all the feature of Pro for 30 days and then with some limitations
Pro:  2 Charts per layout and most tools available
Pro +: 4 Charts per layout and almost all tools available
Premium: 8 Charts per layout, all tools available plus user brand promoting (That's my plan)
The Verdict – An Indispensable Tool For Serious Forex Trading
---
TradingView certainly lives up to its name. Despite supporting integration with forex brokers, it is still not a fully-fledged forex trading software. It does though excel, as probably the best charting solution compared to alternatives. Offering industry leading features and functionality, in a flexible, user-friendly interface. There is really nothing against using this software, and no reason why you shouldn't try it yourself for free.
PS: Many forex traders ask me how TradingView compares with stockcharts or how to get TradingView pro for free. Well TradingView is very different to stockcharts as the latter targets investors instead of active forex traders. And is used mostly for stocks and ETFs. On the other hand, TradingView is suitable for trading and analyzing all assets and is way more suitable for forex.
On how to get TradingView pro for free I recommend signing up for the free 30 day trial. It gives the TradingView pro experience for 30 days but not the pro+, or premium. Meanwhile, during the black Friday week, one can usually find TradingView on sale at a discount.
Lastly, as a side note, TradingView was awarded the Best Analysis Platform at Benzinga FinTech Awards in 2017.
I hope you enjoyed this review and if you have any comments please do drop them in the below comments section and I will be happy to get back to you.