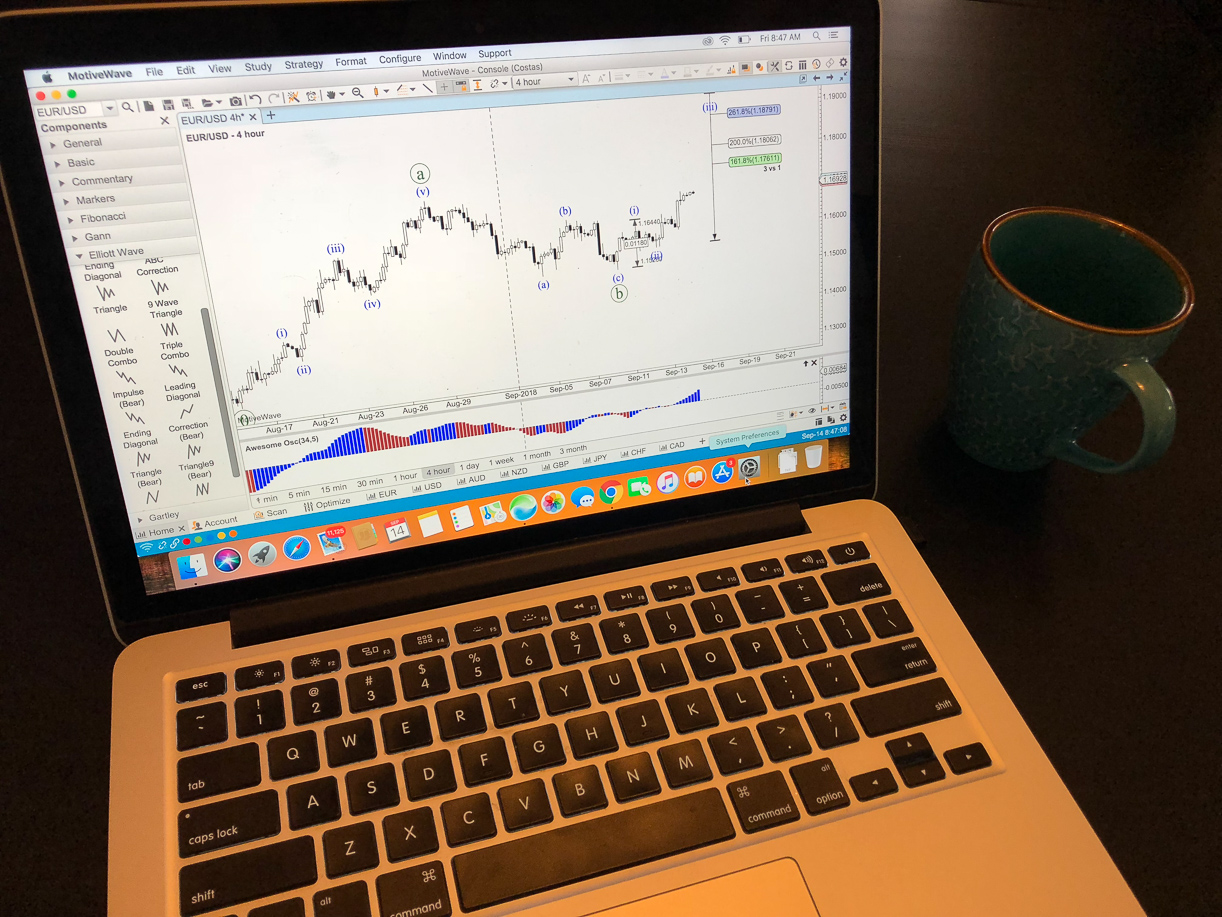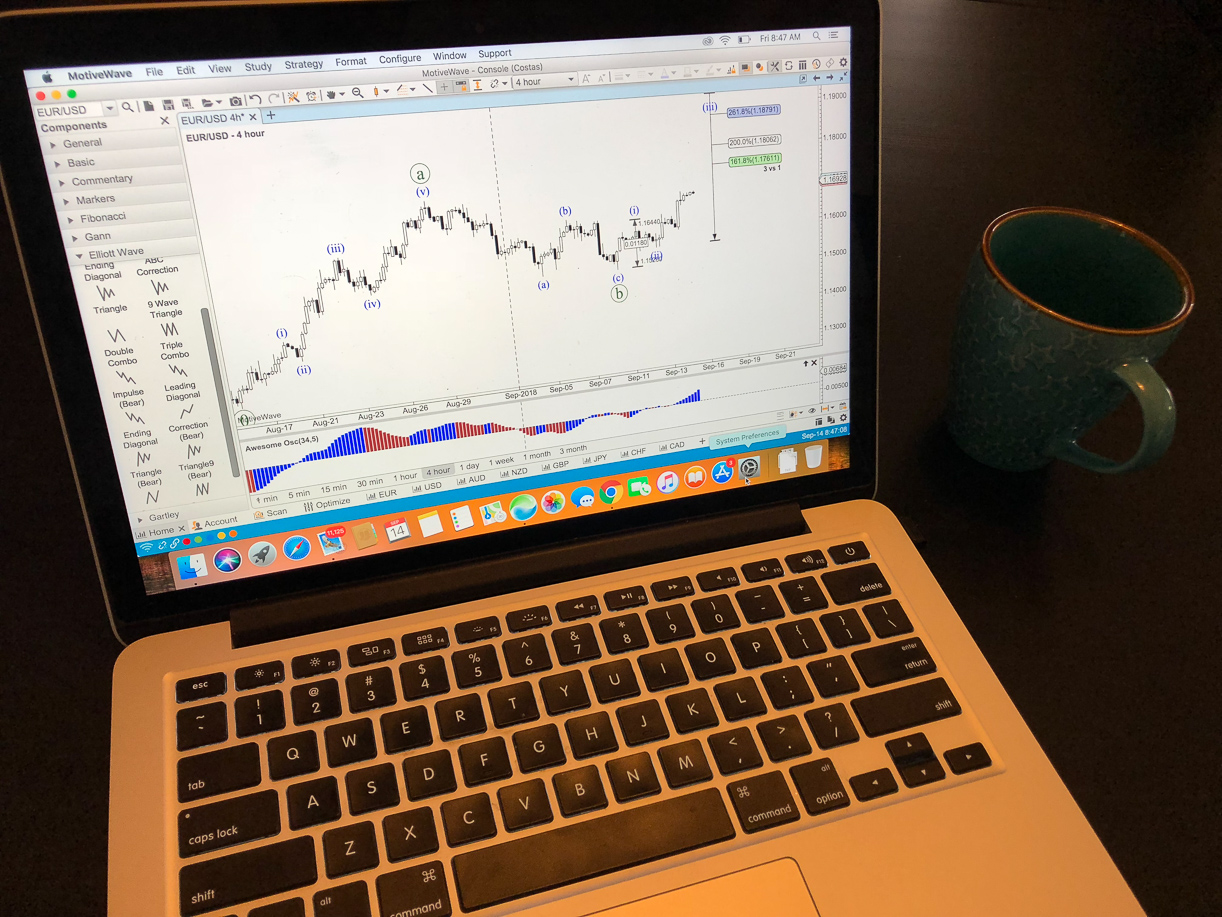 Product: MotiveWave Review
Price: $99 (Charts) to $1595 (Ultimate Edition)
Cheapest Place to Buy: motivewave.com
Support: 1-year free upgrades
Free Trial: Ultimate Edition plus Data Feed  (14 Days)
My Rating: 9 out of 10
MotiveWave Software Overview
---
My experience so far has shown me that when a market has enough participants and liquidity, it is possible to utilize elliott wave analysis to gain an edge and perform profitable trades.
I have been able to apply the principles of elliott wave analysis in almost any market, from forex to stocks and options trading. But I wouldn't be able to do it properly without the right software.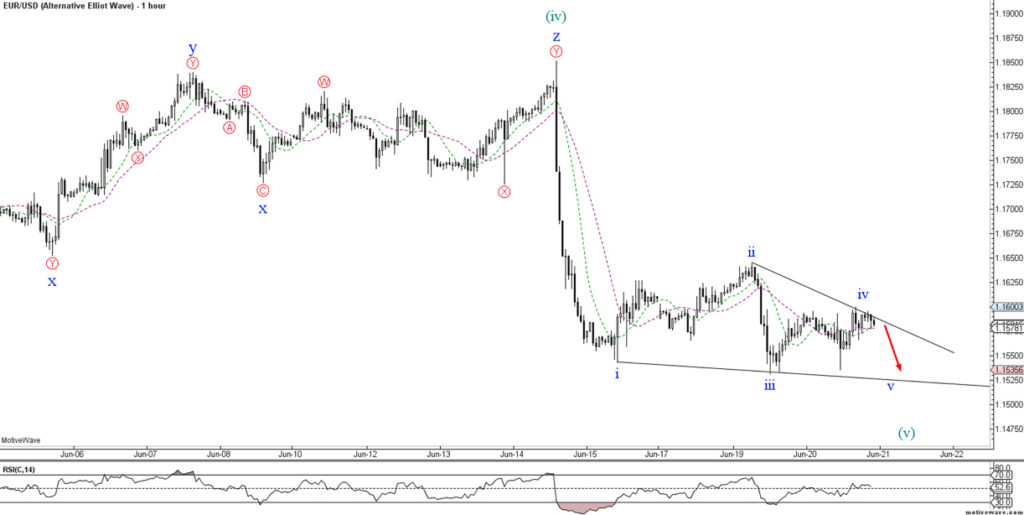 Now my trading routine seems to be the same every morning in terms of scanning the markets for new promising opportunities. I used to scan the markets manually, but now I have automated my scanner in MotiveWave software to scan for all of my favorite patterns. Once, the scanner returns me the best matches I go with the ones that match my own analysis too.
It's almost like a guilty pleasure to utilize such an advanced tool and it definitely saves me precious time and energy. The software feels really powerful since it was specifically created for traders and elliott wave practitioners alike and I'm going to be walking you through some of the best features of this powerful software and personal favorite aspects within this review.
It's Not Just a Charting Software, It's Also a Trading Software a Strategy Tester and More.
---
Motivewave besides being a professional charting software, it is also a forex trading software, a stock trading software and an options trading software depending on the which edition you purchase. For that matter Motivewave comes in various price packages to satisfy all preferences with different features and functionality. Starting from an entry level edition that includes the basics and ranging all the way up to the ultimate edition that has everything all other editions offer and even more.
Everything you would expect from a professional standalone trading platform is included in MotiveWave. Features like professional scanners, strategy trading and backtesting, creating custom strategies, optimizing (genetic and exhaustive), replay mode, walk-forward testing, reporting, and trade simulation everything is included in the ultimate edition of the software.
Moreover, the software integrates with various leading brokers that offer access to all different markets, so you never need to leave your favorite chart setup in order to make your trade on another platform and depending on the version of the software you can trade from various brokers simultaneously.
MotiveWave Price Editions.
---
MotiveWave offers various options for almost any budget category, starting from just $99 for the Charts edition that includes the most popular indicators and various in-between editions that slowly add up all the features the Ultimate has, except from Elliot Wave strategies and scanner, harmonic scanner, Hurst cycles feature and Gann components and tools. While all these can be added selectively to lower cost editions as add-ons, the scanner feature for all the above is only present in the Ultimate Edition.

Trust me, it's as easy to reach the price of the Ultimate edition just by adding a couple of modules separately there and there, like Elliot Wave and Harmonic Patterns. But you would still lack the scanner, which can literally scan all the markets of your preference and return the best matches for your preferred Elliot Wave or harmonic pattern.
It Pays to Have an Edge in Trading.
---
Trading the financial markets is a probability game and as in every probability game it pays to have an edge. Motivewave makes sure you have that edge and that you save considerable time along the way, regardless of automating your analysis or not. In addition to this, there is almost no indicator that this software lacks and so many indicators that you might have thought only existed in the trading books you have read about, Motivewave has them available for you to use immediately.
One outstanding and personal favorite feature of Motivewave software is of course its Elliott Wave analysis algorithms. You can choose for an automated Elliott Wave analysis depending on your package and if you have purchased the ultimate edition then the software can scan the markets of your choice and present you the best options that exhibit reliable Elliot Wave patterns.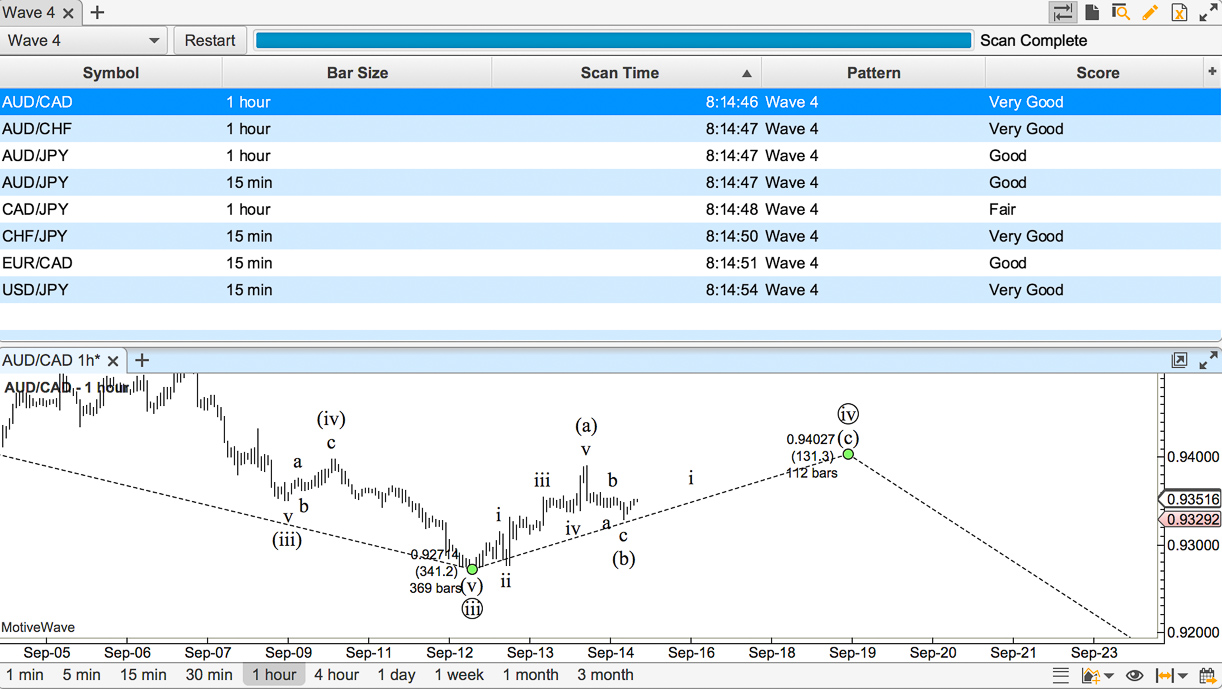 One notable feature that I really love is the way that the Elliott Wave section allows you to select various Elliot Wave patterns as templates and then throw them in the chart and fit them on various peaks and bottoms. The software automatically recognizes peaks and bottoms and works like a magnet, making it easier for the user to fit Elliot Wave patterns on the peaks and bottoms. Then you can choose to decompose a wave into minor degree sub waves either corrective or motive depending on your choice. What impressed me the most is that the software will automatically fit the lesser degree sub waves automatically in most of the cases, leaving you almost with nothing further to do and guessing, saving you precious time.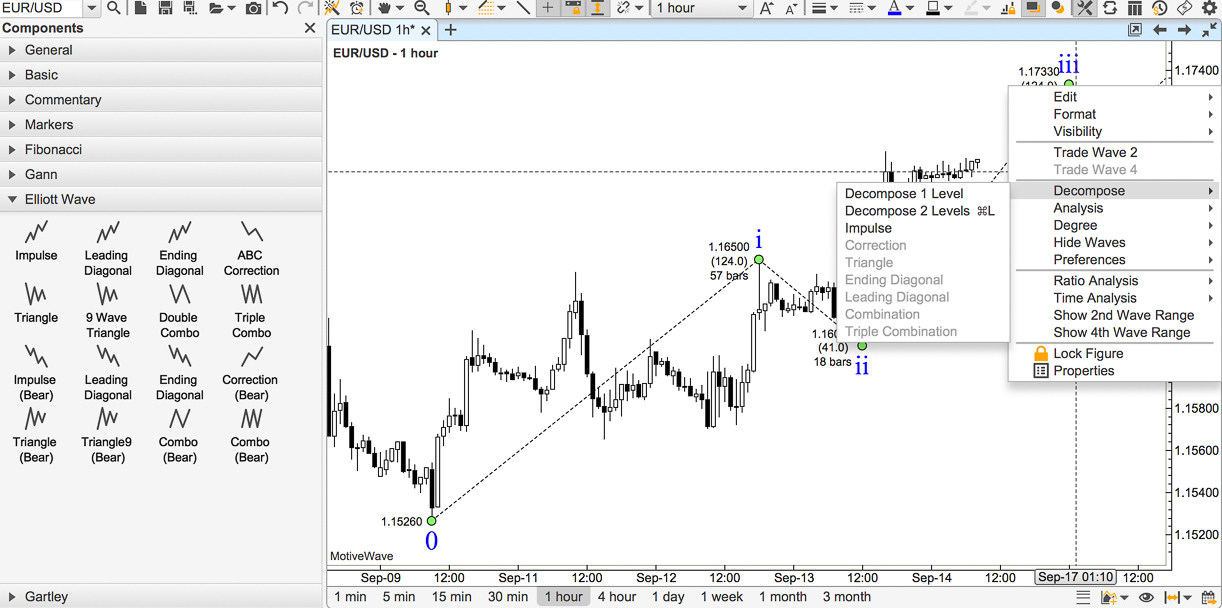 I love Elliott Wave analysis and if you do too, it's almost feels like there is no other option compared to Motivewave if you want to practice it fast, methodically and intuitively. Believe me, I have tried the majority of all charting software packages out there and when it comes down to this particular feature of Motivewave, its seems that there is no other comparison to it.
The only best alternative I have found to work as efficiently, and I do recommend it as a practice method is Elliott Wave analysis on paper and pencil!…
Another favorite feature are the Fibonacci ratio analysis tools, that come as part of the Elliott Wave package. You can analyze each wave and project expected Fibonacci completion levels, in terms of price and time. It's really unbelievable and the software indicates automatically the highest probability Fibonacci retracement or extension levels, based on the wave type and also the highest probability Fibonacci time extension. It really is Elliott Wave analysis and trading at its best.
Another personal favorite of mine, is MotiveWave's harmonic patterns section. Not only there is a scanner feature in the ultimate edition for harmonic patterns, but each harmonic pattern has ranges that indicate the most likely range in terms of Fibonacci percentages. It's like reading the theory about these patterns in real time while using them. There is never a chance to forget the ideal Fibonacci retracement levels of the Gartley pattern or the Butterfly patterns since the software graphically indicates them for you in terms of ranges.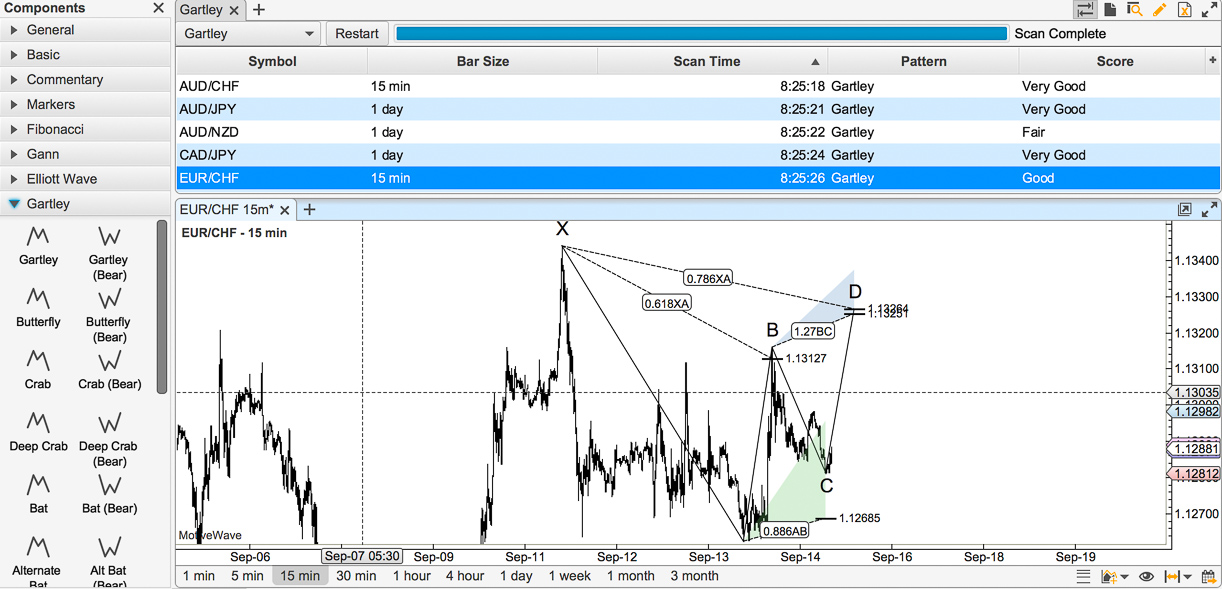 The Verdict – If You Treat Trading As a Business, Then MotiveWave Is an Investment.
---
I can not imagine not using MotiveWave daily as an Elliott Wave analyst and a trader. The way is see it and feel about it is that I have made one of the best investments in my trading business.The software's user-friendly interface makes it easy-to-use, despite being the most advanced charting and trading software out there, while everything on the software is highly customizable to your preferences. Moreover, the software is compatible with either Windows or Mac OS. If you are just starting to learn how to trade the forex or stock market, then a basic edition could more suitable for you, although the ultimate edition could speed up your learning with its rich features and functionality.
I hope you enjoyed this review and if you have any questions about MotiveWave, or want to leave your own personal review, leave a comment below.
PS: Many traders ask me whether there is a MotiveWave discount, how it compares with eSignal, Metatrader 4 and Ninjatrader and how to get MotiveWave for free.
Well, MotiveWave offers discount at various time around the year and especially on days like the Black Friday and other days throughout the year so keep an eye on it.
Compared to Ninjatrader, Metatrader 4 and eSignal i believe that MotiveWave is on a league of its own, especially if you are interested in practicing Elliott Wave analysis or trade based on Elliott Wave analysis then really MotiveWave could be the only viable option.
Finally, you can get MotiveWave for free for 14 days and enjoy the features of the ultimate edition with free high quality market data from DTN IQfeed.